There are a lot of different things to consider when shopping for your next car. But while you'll often find yourself browsing our Hermiston, OR dealership asking questions like "Is this the right model for me and my family?", "How is this sedan's fuel economy?", and "Does this one come in blue?", the most important question you can ask yourself is, "Which financing options is really right for me?" Fortunately, when it comes to deciding whether to buy or lease your next car, we're well-equipped to help you explore your options here at Hermiston Chrysler Dodge Jeep Ram.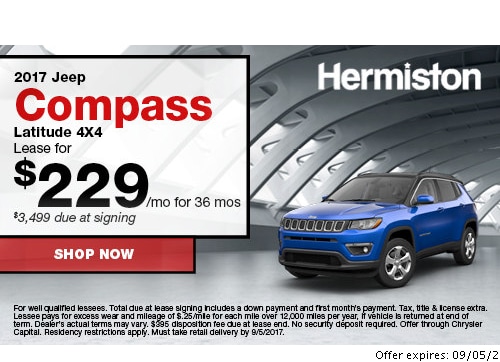 ​
Love having a new car every year or two? If so, leasing may just be a smart bet for you. Leasing is typically only a financing option for our latest Chrysler Dodge Jeep Brand, and Ram models, and with terms ranging from 24 to 48 months, you won't be tied into a long term commitment, freeing you up to enjoy a variety of different cars in a relatively short period of time.
On the other hand, if you're the type of driver who likes to pick the perfect car and stick with it, it may just be better to buy it outright. When you choose to finance your car, you'll own it, meaning you won't be bound by a lease's maximum mileage limit, allowing you to take long road trips, customize your car with accessories, and really enjoy your car of choice for a good long time.
Ultimately, the decision is to lease or buy is up to you, but if you'd like to explore the finer points of financing and the benefits of each option, we'd be happy to walk you through it here at Hermiston Chrysler Dodge Jeep Ram. Feel free to stop in to our Hermiston, OR dealership at your earliest convenient to speak with our friendly, knowledgeable sales associates and avail yourself of our latest special financing offers.